Windows 10 has been a relatively decent release for most people.  There has been mixed reaction to the new features of Windows 10.  Microsoft has taken aim at the unprecedented growth of the Smartphone and table market which from a corporate view was probably necessary to remain viable in the long term.   The trend started with Windows 8/8.1 and is carried forward (and refined) in Windows 10. In my opinion as an IT Technician, many of the new features of Windows 10 have marginal value to business people.  However, there is one feature that I rate very highly: Service Branches.
Service branches are categories for Windows 10 releases.  Service branches allow customers flexibility in how and when they deploy Windows 10 feature updates.  Below is a table summarizing the Service Branches.

Service Branch Summary
Current Branch
The most important aspect of the Current Branch (CB) is that there is virtually no deployment flexibility.  When a new feature is released, every computer in the CB group will get the update.  In August, Microsoft released the first major feature update to Windows 10 since its release: version 1607.  All current branch computers got this update (within a few days of its release).
All computers also receive security updates and fixes.  As a matter of fact, regardless of the servicing level, all computers always get the security updates and fixes.  With the focus on security these days, this is an understandable approach.
Current Branch for Business
In contrast to the Current Branch, the Current Branch for Business (CBB) does NOT get new features when they are released.  If you are configured for the CBB, there will be a typically 4 month delay until you receive the feature updates.  The time between releases varies and is based on feedback from the user community.  During this time, minor tweaks may be made to the feature by Microsoft.
If you are operating a business, you don't want a new feature thrust unsuspectingly on your employees.  You want to know of any new features ahead of their deployment.  A new menu or an option list changing can be very disruptive.   In many cases, the company may test new releases in their own lab to assure software compatibility.  If your business uses any application software such as a Point of Sale, accounting, manufacturing management, sales management or a plethora of others, you want to understand the affects before they go live in your network.
As with Current Branch, all computers will continue to get security updates and fixes.  This cannot be disabled.
Finally, only computers that are running Windows Professional or Enterprise can be configured for the CBB.  As a business owner of even a small business, the investment in Windows Professional is worth the small price to assure some control over feature releases.
Long Term Service Branch
This service branch requires that they computer be on Windows 10 Enterprise.  Configured for the Long Term Service Branch (LTSB), the company is in control of new feature role out and can lock the Windows feature set for years.  The LTSB is targeted toward larger companies with mission critical applications.  In these cases, every new operating system release will be tested extensively by the companies IT department.   Point of Sale terminals for large companies are a typical application that can take advantage of the LTSB.
As with the CB and CBB, security updates and fixes are deployed as they are released from Microsoft.
Insider Preview Service Branch
This is a very special service branch.  The Insider Service Branch allows users (appropriately named Insiders) to use and test new features BEFORE they are officially released.  As a matter of fact, there are three Insider Preview levels.
The Fast Ring is for Insiders who enjoy and want the very first release of software after Internal Validation (see diagram).  As stated by Microsoft, this release could go belly up on you and you might have to reload your OS completely from scratch.  Insiders, who are on the Fast Ring, plan to exercise the new software and often have a few people doing so.  Microsoft makes frequent updates to the Fast Ring release.   Multiple updates in a day are not unheard of.
The Slow Ring is for Insiders who would like to know that the software is marginally stable before testing it.  Again, a reload is a possibility but not as likely. Microsoft makes updates to this software every week or so.
The Release Preview Ring is the most stable and it still gives users and IT staff the chance to test new software prior to its release.  Microsoft usually won't make updates to this software release more than once or twice once at this level.
In all Insider Preview cases, Microsoft listens to the feedback of the Insiders.  Microsoft gives great credit to the success of Windows 10 because of the Insiders and their feedback.  All versions of Windows except Home have the capability to be on the Insider Preview Service Branch.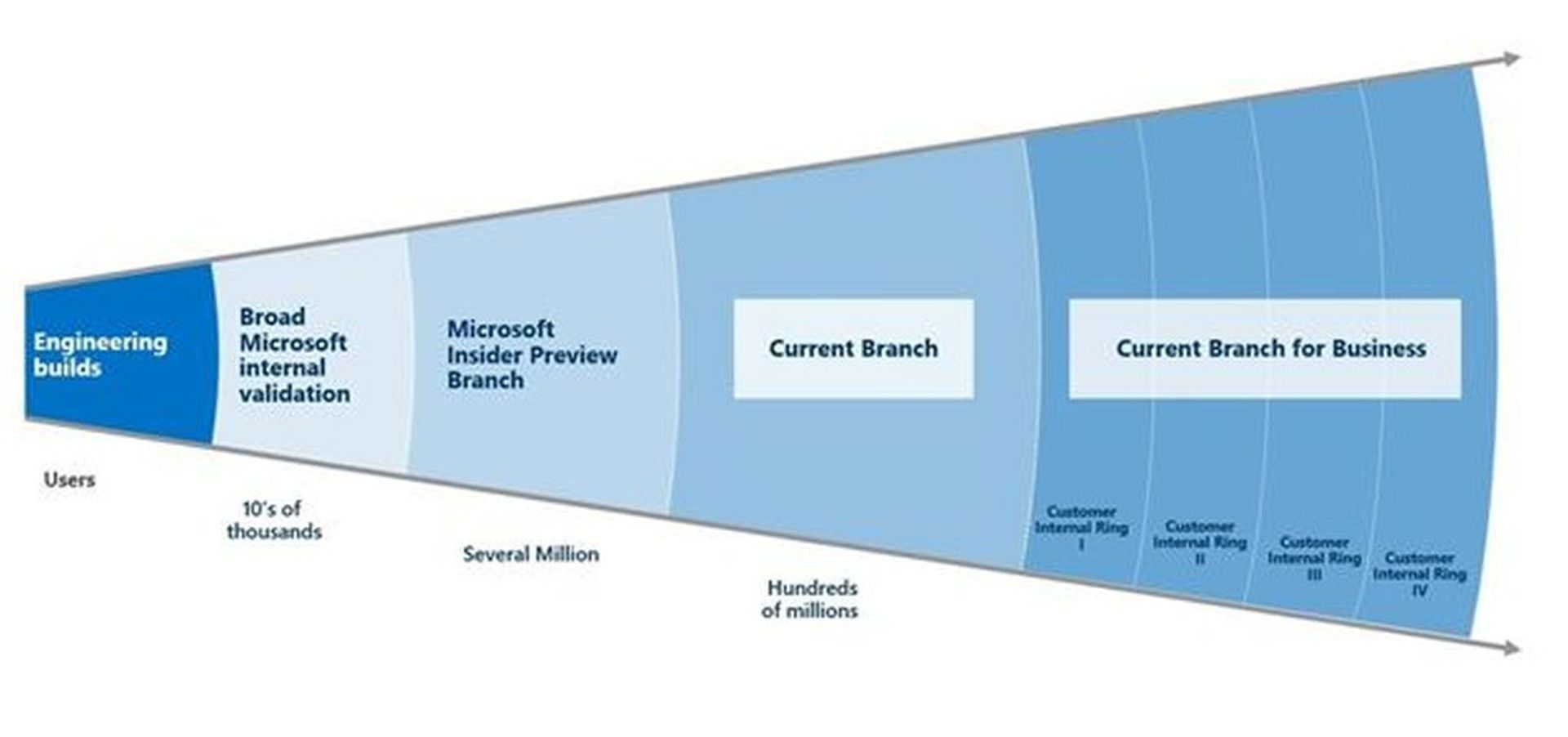 Implementation
So, how do you configure your pc to take advantage of these features?  The default setting for all pc's is Current Branch.  To configure Current Branch for Business, go to Settings/Windows Updates and select Advanced Options.  Click on the defer upgrades checkbox.  Nothing else is needed.
To join the Insiders Preview Branch, you will need to again go into Settings/Windows Updates and select Advanced Options.  Under the Get Insider Preview builds, click, Get Started.  You will then have to restart.
Conclusion
Windows 10 is the last numbered release of Windows but be assured that Microsoft will continually be adding new features.  Understanding how releases are managed at Microsoft will give you some insight as to the best deployment method for you and your company.